As some of you may know, I have crossed over into the blogging world. This cross over has come with very little expense to my pride or even my man-card. The latest venture took my wife and I on a shopping experience that in Utah, I have yet to match. We were invited to the pre-opening of the
Outlets at Traverse Mountain
in Lehi, Utah. How can I say no to a trip that included manly stores like the
Nike Factory Outlet
,
Vans Outlet,
Columbia Sportswear Outlet
? Yes, I am going to go knowing that this the kind of shopping I can handle.
We arrived at the new outlets thinking that this was just an event just for bloggers. Pulling up to the outlets, we learned that there most be thousands of bloggers here as the parking lot was stuffed. Wow that is some cool turn out this blogger group is able to get. Turns out everyone in the area was invited for the pre-opening, but only bloggers were getting the special treatment! After I throw my mom and my wife out of the car so we would not be late, I ventured into the parking lot of insanity. I hadn't prepared for the ensuing journey into mall parking. If I knew how it was going to be at an event like this I would have brought food and a change of clothes. Better yet I could have been one of those people that camps at Black Friday events. I probably should have camped for a parking spot.
I got lucky and found a spot in about 30 seconds. But what fun does that sound like? I went into the mall to see that I wasn't as special as I thought. My wife and mom were barely ahead of me as we went into the mall and I was able to follow them to the right place to meet the other bloggers that had come to visit this very nice place. As we went in, I saw the best thing to fill my stomach - hot chocolate, and all kinds of treats. Someone knew that I was in need of a recharge from work. Yum! We then met up with the group that manages the outlets and the group that put this together for us. I was looking forward to the great deals that we had heard about. But then I got another surprise. There was gift cards and other goodies! Even better.
We were set loose on the mall. Wow, the stores that I saw meant that there would be a return trip. Yes, it is shopping, but it's stuff that I could handle going and seeing. We went into our first store the Gap Outlet. Not bad for the little one, we will have to come back. Maybe some shirts for me. Sorry, but I am a Levis guy. So no pants from here. Next, we turned the corner, running into one of the stores we had been looking for.
Lane Bryant
for my wife. I know that she likes the clothes from there, so why not? Can't be that bad. Besides, it is an outlet store. Just about everything was 50% off - so go for it, honey. We found some incredible deals, so I gave free reign in the store. Yes, you heard me! She took full advantage of the opportunity.
One of the awesome gift cards we got was to
Gymboree Outlet
. Kids clothes with an almost three year old? No problem! We always need clothes for the little one. As we walked in, we found out immediately what the first buy was going to be: elf slippers. Not my size, but I think Zoey would love to wear them. Now what to have her wear with it? Yep, an elf pajama set. What a score.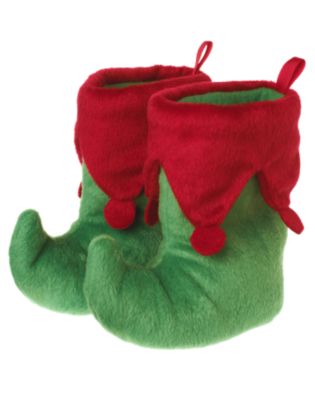 We moved on to many other stores that we saw. At the
Columbia Sportswear Outlet
, I got excited for the next gift card, I knew that this was my gift card. As we went in it was like heaven. But there was only one issue I found, I had all of my winter clothes. I would have a hard time convincing my wife that I needed another jacket. Knowing that this going to be my store I resolved myself to comeback in the future to pick up some new summer clothes. After all I was low on shorts that didn't turn into the work around the house shorts.
We unfortunately needed to get moving as we had left my daughter with my dad by himself.. This the dad who never change one of his own kids diapers... So off we went to drive home, dreaming of the next trip to this very nice, inexpensive shopping mecca. Some of these stores will become the new "I need" stores.